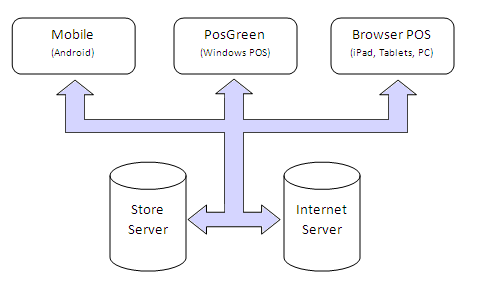 Fieldpine Retail is available in a number of configurations and you can mix and match components to suit what you require. It is a hybrid system, capable of operating "in-house", "cloud", or both at the same time.
Sales Capture can use PosGreen where a highly reliable checkout approach is required. This can be suplmented with tablets or even mobile selling apps if these fit your needs better.
Transactions from all devices are stored in Store Servers or Internet servers, or both.
Our solutons are architected around high reliability, continuing to operate regardless of failure at any single point
Point Of Sale, Sales Capture
Choose one or more program to capture sales
PosGreen Entry
PosGreen Full
Browser Pos
Platform
Windows 7 or higher
Windows 7 or higher
Desktop PC, MAC, iPad, iPod touch, Android Tablet etc
Maximum Products
1,000 Note 1
Unlimited
Depends on Server
Minimum is 1,000
Maximum Customers
20,000 Note 2
Unlimited
Unlimited
Maximum Sales
Unlimited
Unlimited
Unlimited
Customisations
No
Yes
No
Included Modules
None
Purchasing, Customers
Depends on Server
Full Device and Feature List
click to expand
click to expand
click to expand
Supported Devices
Support can vary by device and platform
Barcode Scanners
Yes
Yes
Yes
Receipt Printers
Yes
Yes
Yes
Eftpos
Yes
Yes
Yes
Scales
Yes
Yes
No
Fuel Controllers
Option (POA)
Option (POA)
No
Sale Features
Park/Recall Sales
Yes
Yes
Varies
Price
Monthly
Purchased
Monthly
Purchased
$10
$400
$90
$1495
Included with Store Server
Upgrade Rights
Included
$5 Per upgrade
Included
$5 Per upgrade
or $1000 per site
N/A
Support
Online
Online
Telephone
Online
Online
Support On Demand
Add on
Optional Extra
N/A
Option
N/A
Telephone Support Contract
No
No
Included
$400/pa
Includes Upgrade Rights
N/A
FAQ
How long is the contract? There is no minimum or maximum periods, it is a pay as you go (and grow) approach.
Can I credit montly payments towards a purchase if I decide to buy. No.
What happens if I miss payments? The system will operate for 3 months before switching to read only mode. You must catch up all outstanding payments.
What happens if I cease trading? You may stop payments and support, the system will attempt to continue in read only mode forever in order to meet legal reporting requirements. We advise....
Store Server
Controls a whole store and coordinates multiple lanes within a single store, also to communicate to other store servers in remote stores.
Store Server - Entry
Store Server - Full
Fieldpine Online
Upgrade Options
Runs on a computer inside your store.
Runs on a computer inside your store
Uses Fieldpine Servers
Concurrent Active Users (explain)
3
5
5
Additional 5 User Packs - $50/month
Additional 50 User Packs - $400/month
Price Per Month
Free
$100
$20
Included Point Of Sale Lanes
(PosGreen Full Version)
None
1
None
Multi Store Capable
No
Yes
Yes
Can Use Fieldpine Online
Yes
Yes
N/A
Number of Products
1,000
50,000
With Store Server Full: 50,000
With Store Server Entry: 1,000
Support
Online, and self diagnosis
Online, and self diagnosis
N/A
Upgrade rights
Included
Included
N/A
Cpu Restrictions
None
None
None
..distributed..
Optional Extras
Integrated Excel Reporting
Most reports can already be downloaded and saved as Excel spreadsheets, but our Excel Addin for Fieldpine takes this to the next level and allows you to create spreadsheets containing formulas that read information directly from your Retail System.
For Power Excel users, this permits you to design your own reports and have them constantly updating as sales progress. Cost $10/month/user
...More
Live Results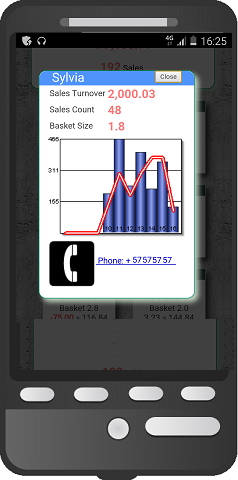 Review realtime live trading results on your cell phone. Provides summary information by store. Cost: $Free more
...More
Extended Limits

If your requirements for products or customers exceed the limits for PosGreen Entry or Store Server Entry you can unlock an extended limit.
Hire Module

The hire module adds the functionality for small hire shops to rent items, track hire and returns, manage memberships.